Tractor Wheel of Life
Do you have a balanced farm business and farming life?
How to complete the Tractor Wheel of Life for your Farm
A healthy and resilient business is all about balance. 2 Minute Farmer has identified 10 areas that contribute to a balanced farm life. All these areas are interconnected, but thinking about them separately will help you to prioritise which areas to be proud of and which areas to work on. This is why we have created a farm business self-assessment tool called the 'Tractor Wheel of Life'.
The wheel is still in development. To help us test out the prototype we would be really grateful if you can try out the wheel and then complete the feedback form.
How to fill it in online 
There is an arable and a livestock version of the Tractor Wheel of Life. Download the one appropriate to you by clicking the corresponding button on the right.
If your download doesn't open with adobe reader (or acrobat) try right clicking the link to open with adobe. If you don't have it you may need to download it (it's free). http://www.adobe.com/go/reader
Follow the instruction in the booklet to fill it in. I think it takes about 30 minutes but let me know if it's different.
Once finished click the submit button (this should be at the top of the page). This will ask you for your email and send your results back to me. If there is no option to submit the form (or if it doesn't work) then save and email it to 2minutefarmer@duchy.ac.uk.
If you would like a bit of help to fill out the wheel, then I will be running a 2 Minute Farmer Virtual Wheel Help Group. In this session I will help a small group of you fill it in via video chat. If you are interested in this let me know and I will sort a date.
Harriet Housam
2 Minute Farmer Team Leader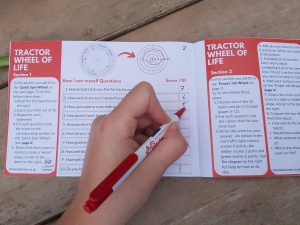 Other ways you can complete it
If you would rather fill out a paper copy then get in contact and we will try to get one sent to you. Once Corona Virus restrictions are lifted we are also hoping to run events based on filling the wheel out.
Please let us know your thoughts
We would love to hear what you think about the Tractor Wheel of Life. Feedback will help us improve it for farmers who may use it in the future. It also helps us demonstrate the uptake and advantages of the wheel to businesses who may be interested in using it alongside farmers. Click the button above to download the feedback form. You can print it off and post it to us or email us your copy.
Development of the Tractor Wheel of Life
2 Minute Farmer have been working on the tractor wheel of life since January 2019. The first edition consisted of a single page with a single wheel that had 8 spokes. You can still download from one of our blog pages. In September 2019 it became more of a booklet. A key element of this booklet was that it contained a subjective and objective wheel. This enables farmers to rate where they think they are and then fill in questions to find out where they actually are.
2 Minute Farmer tried out the booklet at some of its events around Cornwall called "Cornwall's Farming Community Get Togethers". There was lots of positive feedback about the wheel as well as recommendations for improvement. After listening to these there are now:
10 key topics
An improved layout
Signposting to places to get advice for each topic
Improved questions
This has led to an official 'Tractor Wheel of Life' prototype which can be found on this page. We want to trial it across Cornwall. Please get in contact if you are interested in getting involved.